New timetable!!
Wednesday and Thursday open from 18:00 to 00:30. Friday open from 18:00 to close. Saturday and Sunday open from 12:30 to close. Monday and Tuesday we will rest.
Welcome to our Online Gastrobar!
Wednesday - Friday:
18:00 - Closing hour
Saturday and Sunday
12:30 - Closing hour
Welcome to our Online Gastrobar!
A cozy place where you can enjoy a pleasant time
Following the tradition of the British public house, some friends decided to open in 2020 bombardino with the aim of creating a meeting point for all residents and visitors to the Benasque Valley. We want it to be a cozy place where you can enjoy a pleasant time with friends, either eating, listening to music or drinking one of the cocktails designed by our team.
"When all this started we had to find a name to identify our dream and that's when José Luis Samitier, alma mater of bombardino Benasque, decided to adapt and give us a taste of a cocktail well known in the Italian Alps, the bombardino. What better place than Benasque to enjoy a hot or cold bombardino after enjoying a day in the mountains."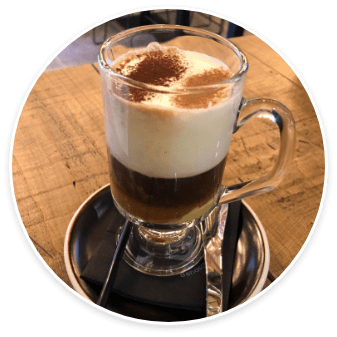 A small place where you can have a good wine, accompanied by a good gastronomy.
We offer you a special place in a unique environment. In any of our corners you can enjoy both a good wine accompanied by any of our dishes as a great drink listening to music. From Bombardino we also want to recognize the great work that, for forty years, has been doing the School of Hotel Management of Guayente and its contribution to the gastronomy of the valley. Happy 40th Anniversary.
Discover our Gastrobar in this virtual tour, or better yet, come and visit us and see it with your own eyes.
Appetizers and hot dishes
Alcoholic, hot and soft drinks
You can make a reservation at Bombardino Benasque by sending an email to
reservas@bombardinobenasque.com
, filling out the form below or at Bombardino. In all cases, it is important that you indicate
the time of reservation
. Lunches (14:00 or 14:30) and dinners (20:30 or 21:00) and a
contact telephone number.
To facilitate a better service we recommend booking at least 24 hours in advance.
The reservation request does not lead to the confirmation of the reservation.
You must wait for a booking confirmation from our room team, which will be sent to the e-mail address you provide.
¿Estás buscando empleo y te encanta el mundo de la gastronomía de calidad en un entorno único como Benasque?
Si es así, Bombardino Benasque es tu lugar ideal para trabajar.